Ron Nasty and The New Rutles
In 1994, the American Cinemateque and the British Academy of Film and Television Arts teamed up in Los Angeles to do a 25th Anniversary retrospective of Monty Python's Flying Circus (The retrospective was called "Monty Python: Lust For Glory"). The program covered the group, both pre- and post-Python. Several members of the group participated in discussions during the fest. Python regulars Carol Cleveland and Neil Innes were on hand as well. All You Need Is Cash was screened as part of the program looking at Eric Idle's work after Python.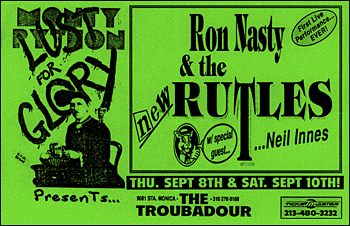 As part of the activities surrounding "Monty Python: Lust For Glory," a concert performance by Ron Nasty and The New Rutles was announced at The Troubador, the legendary club in West Hollywood, California. The seeds for the concert had been planted at the Chicago Beatlefest in August of that year. Neil Innes was a guest at that gathering of Beatles fans, and his solo performances of Rutles tunes were enthusiastically received. Martin Lewis was at that Beatlefest as an emcee, and noticed the reception given Innes. As one of the organizers and hosts of the "Monty Python: Lust For Glory" festival, he arranged the Ron Nasty and the New Rutles show as one of the adjunct activities. The concert, set for September 8, sold out so fast that a second show was quickly arranged for the following Saturday, September 10. That show also quickly sold out.
The concert was a stunningly good time. Neil Innes was the well-received opening act, playing audience favorites. But the greatest enthusiasm was reserved for the breathlessly-awaited appearance of Ron Nasty and the New Rutles.
Applause and cheers shook the house as Ron Nasty and the New Rutles (actually a very good Beatles sound-alike group called The Moptops) took the stage. Backed by the Rutland Symphony Orchestra, they launched into spirited renditions of most of the Rutles classics that the audience knew and loved.
John Carberry was at both shows, and provides this engaging first-hand account of the experience.
The response to this undertaking so took Innes by surprise that he began to think seriously of recording new Rutles music, 20 years after The Rutles made their first appearance.
---