The Rutles Archaeology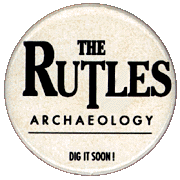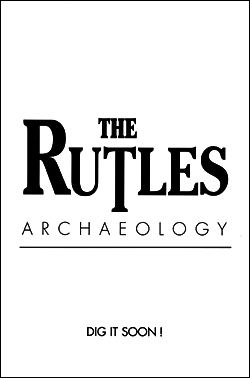 The first inkling the public had that there would soon be new Rutles music was provided in a tantalizing full page advertisement in the program booklet for Los Angeles Beatlefest '96. It said simply, in black letters set against a plain white background, "The Rutles Archaeology - Dig It Soon!"
Handed out along with the Beatlefest program booklets were 1-inch white pins that echoed the wording of the ad.
The idea was made concrete on July 13, the first evening of the 'fest. After the benefit auction, Martin Lewis, Los Angeles representative of The British Academy of Film and Television Arts, made an announcement. As we all know, he said, a small group of musicians has gotten together in a studio just south of London to record a new song. "We have it here for you now," he concluded, and gestured toward the person manning the sound console. Soon the hall was filled with a wonderfully catchy melody.
Spirits soared in the auditorium as hundreds of fans together listened to the first new Rutles song to be heard in almost 20 years. The song was "Shangri-La."
About two weeks later, Daily Variety, the newspaper of record for the entertainment industry, published a story detailing the long-awaited return of The Rutles.
---
This was followed by numerous mentions in both the trade press (Variety, Billboard Magazine) and the popular press covering the soon-to-be-issued new album from The Rutles.

CNN ran a short feature piece about the taping of the music video for "Shangri-La," which included footage of the All-Star Chorus in New York, as well as an interview with the boys conducted by Bill Tush.

Anticipation ran deep as fans the world over awaited the October 29 release of Archaeology.
---